Shaqfacing the industry: Loud DeJesus - APID (All Praise is due)
90

%
The combo of Loud and DJ Will Gates is so authentic hip hop, so refreshing. While the running back of songs felt A LIL funk flex-ish at times it never killed the vibe and actually enhanced it.
Peace bruhs and bruhzettes!
It's the Ramon Noodle gawd, cutting squares out a towel to make wash clothes. We ain't got it like that but we're innovative! Back at it again like I left my car keys!
Ohh I'm excited today!
'Tis thee season of giving and today, FINALLY after years of waiting…..
Loud De Jesus (pronounced hay-soos) aka M@RV3LOU$ aka Grimey Jux face with the help of one of the hottest underground DJ's in New York City, DJ Will Gates, has released his highly anticipated, Loud Gang Presents: All Praise Is Due EP.

Now, I first got wind of the tape almost 4 YEARS ago when I sat and chopped it up with the homie to find out more about the BROOKLYN Rapper. It was to drop right after the INTERVIEW but he then took a dre-tox style disappearing act only to pop up 4 years later,out the blue on some sting, wcw steez, all up in the rafters looking down at the game and what it has become.
four years is a long damn time bruh, a lot has changed. Back then, I was just a struggling blogger trying to pave a way. Today, i'm a struggling blogger trying to pave a way with slimmer fitting clothes. The genre of "Mumble" rap reigns supreme on radio. Its out wit Obama, in with Trump and out with my hair, in with baldness. (Hat game strong though)
Will the tape live up to the hype of a 4 year hiatus? Will we be singing his praise or looking at the downfall? Lets find out!
Intro (Prod. By Potential Threat)
Ok… Moment of silence for all the struggle rappers who just died right now!………
THIS IS WHAT THE HELL I BEEN WAITING FOR BRUH!
NO HOOK! JUST BARS!
If this intro is any indication of the rest of tape. Woo…
Cant Stop the Wave (Prod. By Loud de Jesus)
First off Free the boss Don Max Biggavelli! FREE THE WAVE! WHAT COLOR IS YA MUTHA!?
OWWWWWWW!
Ok my bad..
Loud showing off his production skills, remixes one of my favorite Max B songs and beats. As soon as the beat started I kept hearing the Max B version in my head and had to keep running it back to get focused on the bars Loud was dropping.
DJ Will Gates is showing out on this song! Its giving me that early 2000s, DJ Whoo Kid type feel, where a DJ blended so well with the tunes he was cuttin. Complimenting the track rather then taking away.
Ain't know (Prod. By Loud De Jesus)
Loud is proving his beat making ability isn't a fluke and has fire with this track.
"These niggas ain't know!"
The very infectious hook grabs your attention as soon as it hits and I see this being a potential single. Dope song, Loud is letting you know how he does things in the streets, setting trends, never following. I'm really digging this tape so far.
All Praise feat. MGP (Prod By. LOUD DE JESUS)
First off, Who this MGP cat!?
"Young nigga ballin like Wiggins, last year spent about three niggas pensions"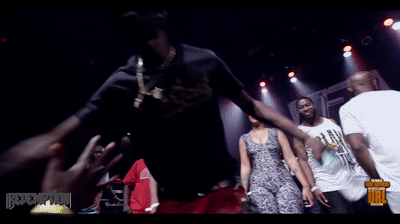 Woooooo!
Talk that good benefits with pension talk! Damn you're just spending three dudes whole life in one year bruh!? So disrespectful.
This is just a straight raw, screw your face up, razor blade in the mouth, dirty timbs track. NO HOOK NEEDED.
Aspiring Actress feat. Content Carter (Prod By Loud De Jesus)
Ok, Loud decides to slow it down a bit with this one. Content Carter lays the hook down very smooth like about these "aspiring actress" who aren't anything but slores. The city is full of these types and loud and content Carter gives the play by play. Loud's slow flow is dope and the wordplay is top notch. Sit back vibe out, think about the hoes that did you dirty.
You (Prod.By Loud De Jesus)
WHY IS THIS SONG SO SHORT!?
Yo Loud is such a duel threat with the beats and rhymes. He fully understands what he likes and sounds good over. If this hiatus has shown me anything, it's that he was sitting back perfecting his craft and it shows.
Loud takes this time to get his thoughts together and spits an effortless hard verse.
MARY pt. 2 feat. Jone$ (Prod.OhBliv)
Ehhhh….
I mean, it's alright but it doesn't vibe well with the rest of the tape to me. It almost feels like a late edition, bonus track. It's not a bad song by any stretch but just kinda throws me off and with "YOU" feeling like the outro track,this just doesn't fit. Maybe hiding it in the middle of the EP would make it sound better but as of now its the ONLY song i'm not really feeling.
So the wait is over 4 years in the making! and Loud DeJesus just hit us with the MEAN comeback! This tape right here is so fire, crafted like it took years to perfect. (aside from the Mary pt.2 blunder). The combo of Loud and DJ Will Gates is so authentic hip hop, so refreshing. While the running back of songs felt A LIL funk flex-ish at times it never killed the vibe and actually enhanced it. This is some of the best music I have heard coming out of the NYC underground in a while. A star might of just been born.
While i'm a harsh critic when it comes to ratings, This EP has earned a solid 8.5 (90%) outta 10 timbs. Just the beat selection and the corresponding lyrics just makes me feel this is a diamond in the rough. My only gripe is that its just too short! 7 tracks and under 24 minutes of run time.
For the wait, I Would have loved to hear a few more tracks, but understandably, its an EP. I'm just hoping he has more of this moving forward. Now don't take another break!